January 2022 Update
Over 425 parking reports last month! File reports every night you park even if it's just "no issues", keep me busy and make the data better for everyone!
-
AllStays Pro
has greatly improved on map filtering
Got official word from dozens of stores that are now "No Overnight"....Were getting too many rigs.
Take it with you

Overnight Parking WM

The information you find here but with the added convenience of GPS, maps, one touch calling to store, filtering and directions for both parking and no-parking stores. Built for iPhones and iPads.

For those that can't do apps, this is by request and is a indexed PDF file. Look up a city and find all of the WM stores with map links, including which ones have been reported as no parking stores. Download it and take it with you. $4.97 WalMart PDF.


Pure information, thousands more locations, faster, no ads, privacy, full screen maps, more filters, layers for traffic, biking, public lands, GPS files, over half a million search combinations. Join now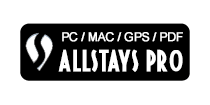 Featured Apps
Camp & RV
(inc. store data)
The number one camping app for iPhone, iPods, iPads and Windows PCs. From resorts to hike-in spots. Amenities, maps, truck stops, rest areas, Wal-mart and casino parking, RV dealers, sporting goods stores and much more.
Truck and Travel
(inc. store data)
The number one trucker app for iPhone, iPads and iPods. If you drive a big rig, you need this app. If you just drive on road trips in a car and prefer making your stops count, you'll love this app. Amenities, maps, truck stops, rest areas, Wal-mart, truck dealers, clean outs and much more. Two modes: one uses GPS and maps that you can filter. One is an offline manual lookup mode for when you don't have service.
Recent Guides
Is Wal_Mart Overnight Parking Safe?
How to Overnight at Wal_Mart
Safe to Overnight in Rest Areas?
Overnight Parking Ideas

Why list store Locations?
They do not support us and we do not endorse or support this store in any way. We always encourage people to support campgrounds and rv parks. Many people traveling on the road these days use stores for parking and supplies. Many locations do NOT allow over night stays in parking lots due to store managers or local laws. Please call ahead to be sure if you want to do this.